How does our Math Online Tutoring work?

Step 1: Register
Register in a few easy steps. As soon as you register, you'll have a Parent Account. Make sure to fill out your contact information and add students to your account.

Step 2: Schedule
Let us know your preferred schedule by phone or email. You will receive a confirmation if your preferred is available. Otherwise, an email will be sent to give you the available hours.

Step 3: Set Up
Get your device ready for the session. You will need a tablet/computer to run Skype and the ZOE board.
Create Parent Account & Add Student
What Are Needed For Our Math Online Lesson?
The setup requirements for our math online session are very simple. We made sure that the pieces of equipment needed to set you up for a successful online school session are nothing fancy. If the items are not yet available at home, they will be easily found in your local electronics store. We highly recommend that you set up your pieces of equipment in a learning space conducive to learning.
An iPad or computer for collaborative writing and instruction.

The Learn ZOE platform runs well on a laptop, desktop, or iPad. You will not be required to download an app to use the platform. The platform is accessed through the web browser. Simply go to learnzoe.com and sign in to your account to launch your ZOE board.



A computer with a camera or a second iPad for audio and video.

This second device connects Learn ZOE instructors with its students through audio or video call. A fairly updated computer is recommended to make sure the call runs smoothly. The lessons are discussed in real-time. The audio or video call allows students to experience student-instructor dynamics similar to a face-to-face session.



A Skype account.

The live audio and video sessions will be delivered through Skype. As soon as your first Learn ZOE session is scheduled, you will be asked to share your Skype account to complete setting up the session.



Stylus for on-screen writing and problem solving (optional).

The ZOE board is a writing space to solve worksheets and math exercises. It runs best on a touch screen device. You may use your fingers or your stylus to write on an active ZOE board.



A headset with a mic for clear communication (optional).

Audio call and video calls run with or without a headset. While this device is optional, we recommend one for a better learning experience. A regular headset that is working properly makes a big difference during lesson discussions and collaborations.



When these things are completed, you can choose your online math program here at Learn ZOE. You have two options to choose from. Check the setup options below.
Option 1:
2 Devices
(Live Audio + Video)
Run ZOE with live video and audio capability. You will need an iPad and a computer or second iPad with Skype capability. One iPad will run ZOE board which will act as both a textbook and writing pad for students and the video device (computer or second iPad) will provide real-time audio and visual communication with a ZOE instructor.
To start the ZOE session, you will do the following:
Log in to www.learnzoe.com in the browser on your iPad.
On the iPad, you will select "Go to ZOE Board" under Today's ZOE Sessions.
Launch the Skype application on your audio-video device and connect to the live session.
Option 2:
1 Device
(Live Audio)
Run ZOE with audio capability. This option is recommended if you want to run Skype and ZOE board on one device.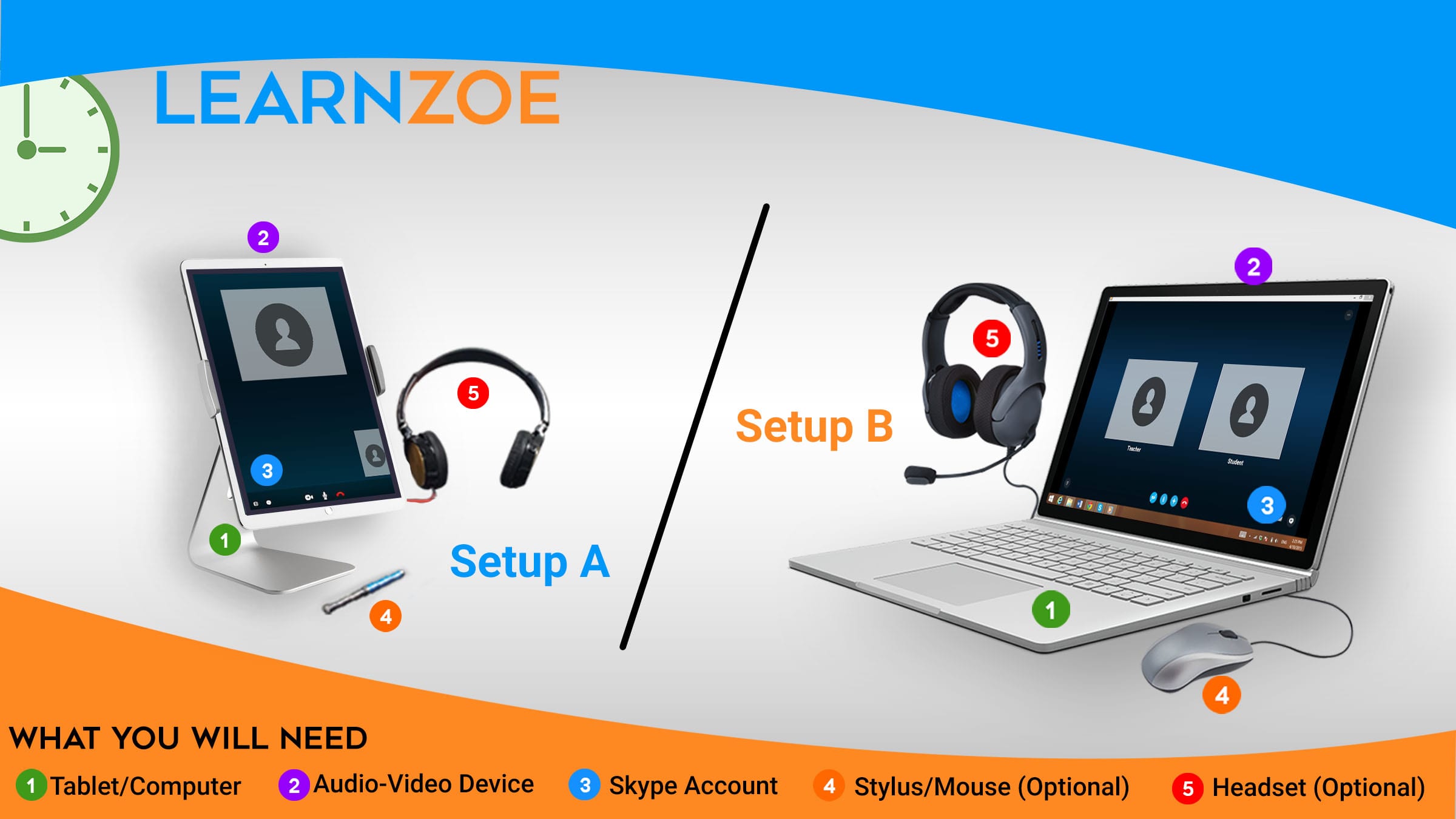 To start the ZOE session, you will do the following:
Launch the Skype application on your iPad/Computer and connect to the live session.
ZOE Website Access


For Ipad: Click the home button and open the Safari browser.
For laptop/desktop: open a new tab on your browser.

Log in to www.learnzoe.com in the browser.
Select "Go to ZOE Board" under Today's ZOE Sessions.
Learn ZOE Parent Dashboard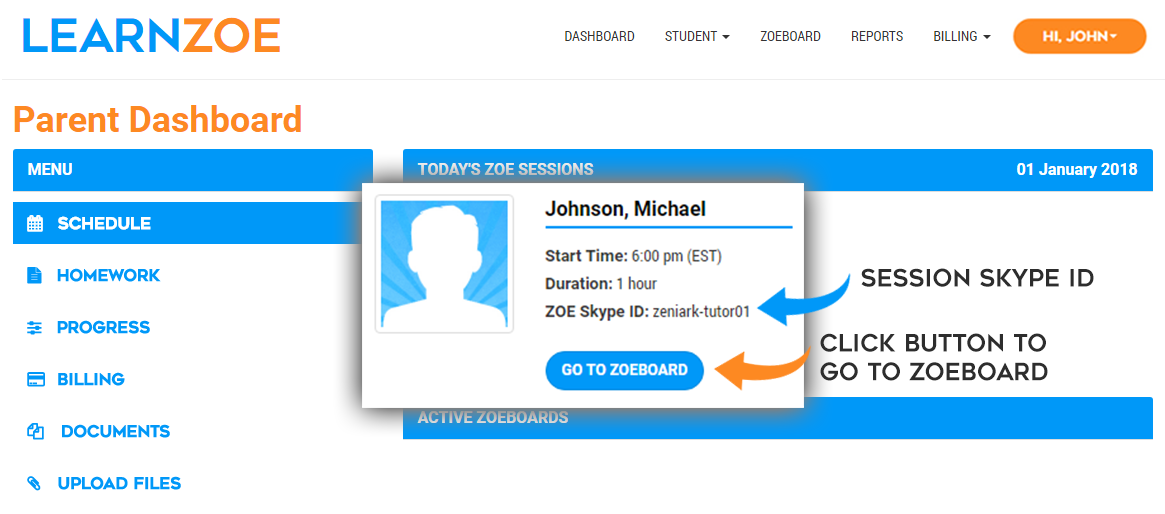 You will need to have Skype installed on the computer or iPad that you will use for video and/or audio. You do not need to install anything on the iPad to run the ZOE board, it will run in the browser when you are logged into Learn ZOE.
Introducing the Zoe Board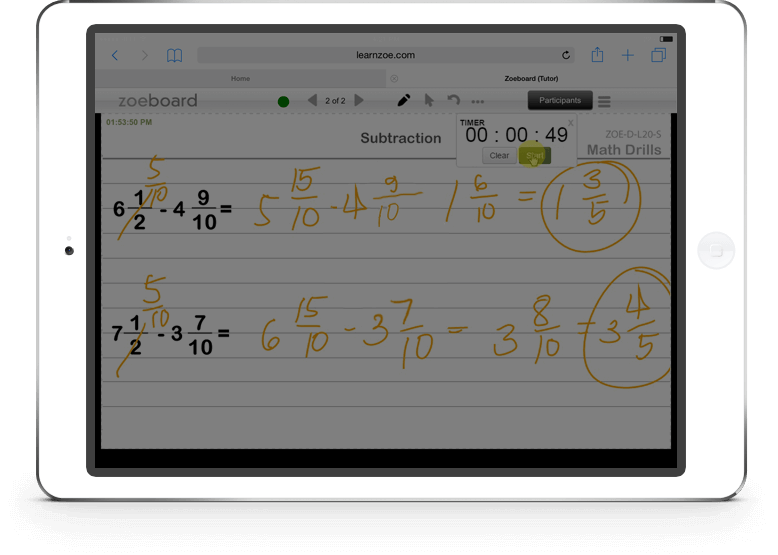 At ZOE, we use our proprietary platform to teach Math. The ZOE board is a collaborative board that replaces the traditional textbook with paper and pencil.
READY TO GET SMARTER?
Register and schedule a free introductory session today
GET STARTED